History in brief
In 1992 breeders with strong interest in breeding holstein cattle founded an association - Holstein Association of The Slovak Republic. At the beginning of 1993 the association was transformed into a cooperative and started its first activities.

In 1993-94 it was mainly individual consultancy for breeders and lecturing at seminars and breeders days. At the same time the association carried out commercial activities - semen and embryos imports from USA and Canada, purchase mediation of pregnant heifers from abroad and active participation in breeding work. After comparing our knowledge and experience with partner breeding organizations from abroad we gradually started to build up a system of supporting services for breeders and reduce commercial activities.
In September 1995 the association adapted and introduced a new activity - holstein cow official linear evaluation followed by another demanded advisory service - mating programs.
In March 1996 the association was authorized to keep holstein herdbook and since that time it has been registering holstein bulls.
Since 1997 it also keeps the cows and heifers database.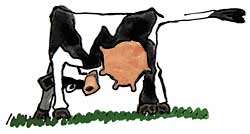 After five years of these activities, due to a new law, the coop has been changed into non-commercial organization named Slovak Holstein Association (SHA)